The Best or Worst Moment to Take a Risk?
Reprinted from the Wall Street Journal April 15, 2015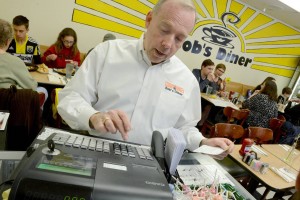 Bob Marshall did what few others would do after being told he had cancer.
He quit his job, with its health benefits and paid sick leave, and opened a diner—a risky, demanding business that he had tried and left twice.
His brother, Dick, said it was a mistake. You have two kids, a wife, a house. Now you have cancer. It isn't the time to be taking chances, he told him. Their mother agreed. His late father, whose own small pen and pencil business went bankrupt, had told Bob after college to get a job with a big company and stick with it.
Mr. Marshall, then in his early 50s, knew what they said made sense. His oldest was starting graduate school and his youngest in high school. He worried about medical bills and whether he could get health insurance and how much it would cost. He grappled with those fears against a backdrop of his greatest one of dying and leaving his family.
"I was afraid of failure for my family and also myself," he says. "I also had a belief that it would work."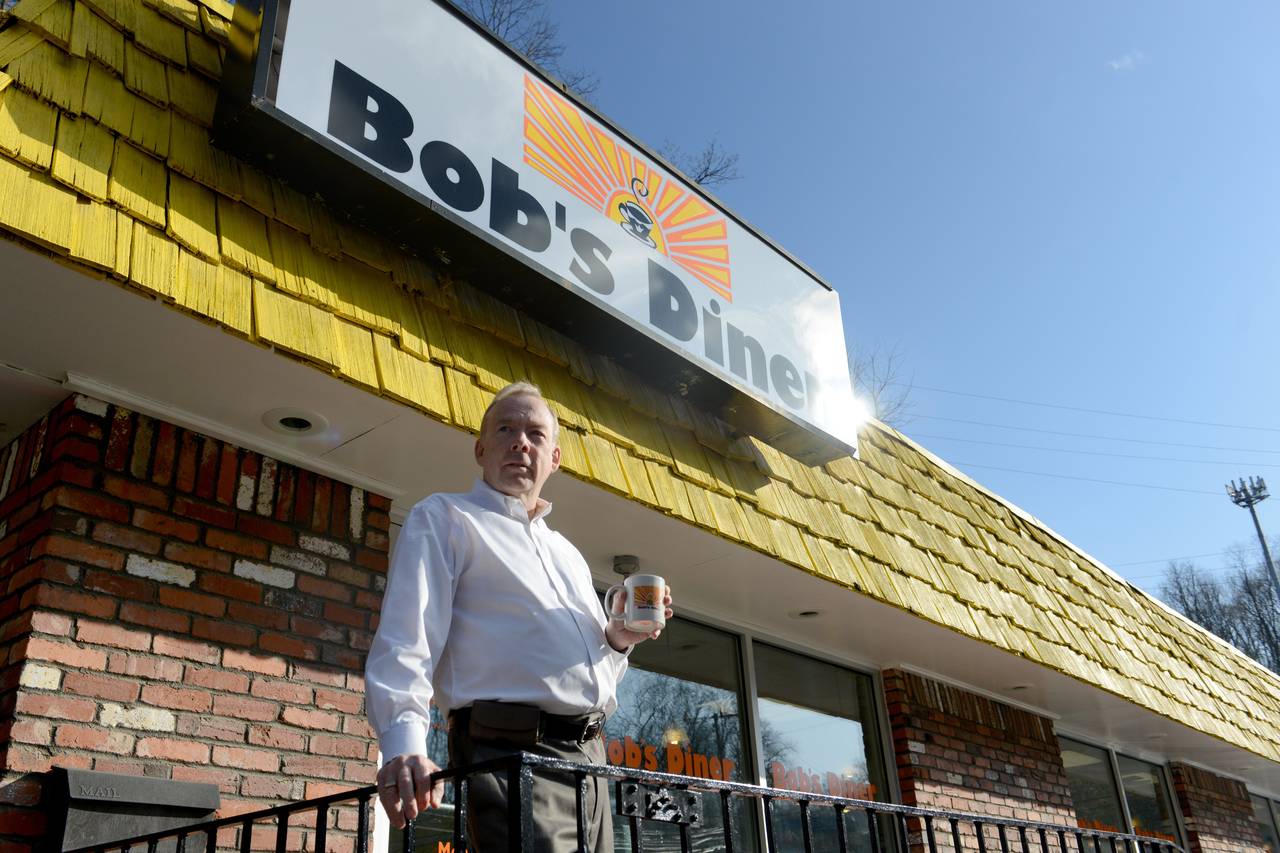 At uncertain times, why take a risk? When unmoored by illness, loss, or divorce, people tend to avoid further disruptions and cling to what anchors them—from relationships to routines to places. It is "especially hard to let go when you don't know what [is] going to come next," the late William Bridges, an author and consultant, wrote in his book "The Way of Transition: Embracing Life's Most Difficult Moments." Yet taking a risk is often what people need to move forward.
For some, uncertainty itself becomes a motivator. "If I'm going to do what I want to do, I better do it now," says Susan Bridges, who was married to Mr. Bridges and is president of the consulting firm William Bridges & Associates, based in Larkspur, Calif., which helps people and organizations deal with change.
Eleven years ago, Ms. Bridges was diagnosed with non-Hodgkin's lymphoma. At that moment, what had been abstract and remote—her own mortality—suddenly became real. Since that time, she says, she has been more daring. Normally cautious financially, she flew to Seattle for the weekend in February to see "Semele," a rarely performed Handel opera. About that time, a flier for an African safari crossed her desk. "I thought, Why not? And why not right now?" She leaves later this month. Though she is in complete remission, the uncertainty never leaves. "There's something about the imminence of life being over that can be freeing," says Ms. Bridges.
Mr. Marshall, now 59, fell in love with the diner business in college. When he visited his parents in Florida, he and his dad, Nelson, woke early and went to Louie's Diner. Over pancakes, hash browns and white toast, Bob would update his dad on school, girlfriends and job prospects. His father, who worked for years at Parker Pen Co. as a fountain-pen salesman, regretted his decision to leave and start a business that failed. "Work for a national company," Mr. Marshall recalls his father saying.
For years Bob did. After college, he worked for Hallmark Cards Inc., selecting retail sites. He married, bought a house near his childhood Pittsburgh-area home and had two children. He and his eldest, Claire, both early risers, went to a local diner for eggs and pancakes, repeating the ritual he shared with his father.
"I thought I was set for life," says Mr. Marshall. "Promotions, bonuses, a company car." He eventually left Hallmark for better pay and opportunity, but remained in the stationery and gift business for 31 years.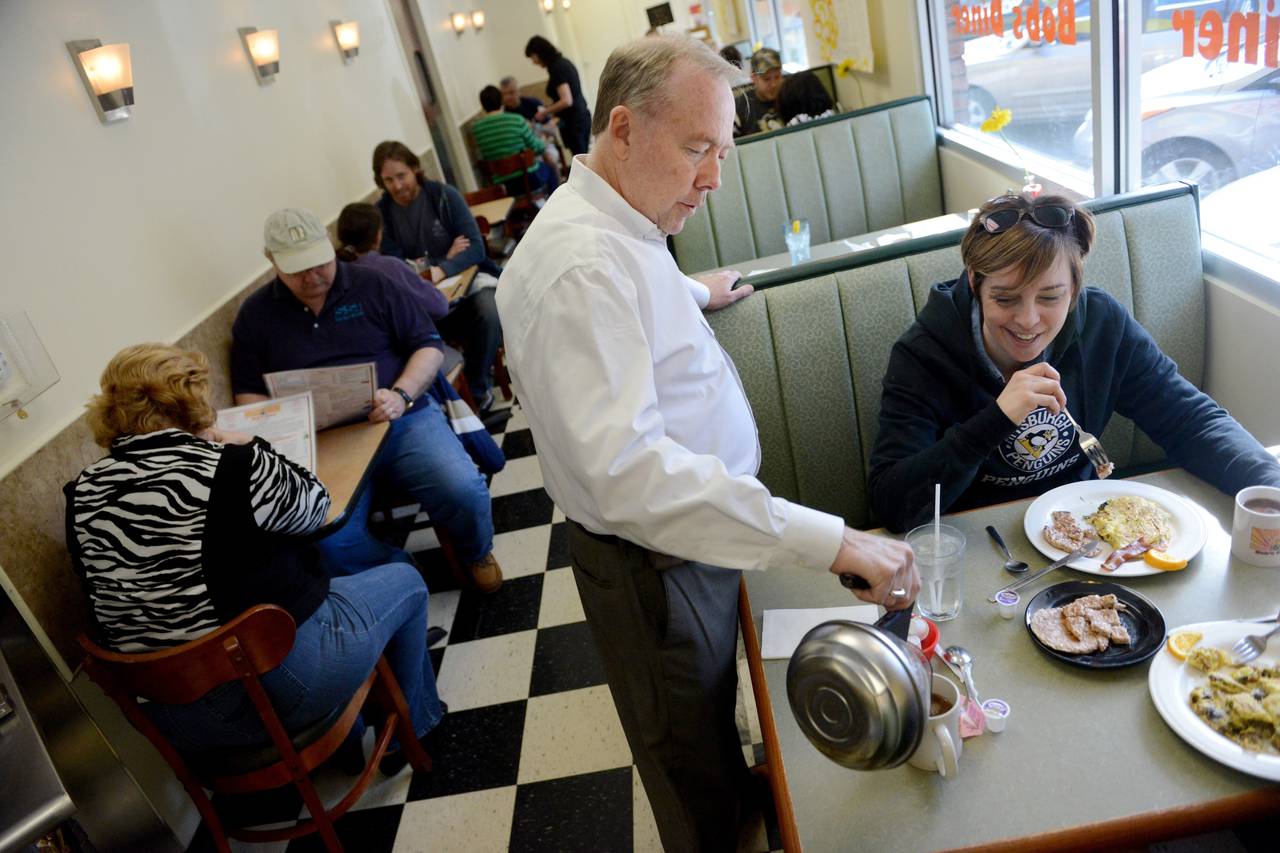 In 1998, he spotted a vacant bar that reminded him of the space that Louie's occupied. Using savings from his profit-sharing plan, he signed a five-year lease and opened Bob's Diner, keeping his corporate job. His dad, Nelson Marshall, died soon after the opening, and Mr. Marshall lost heart. That and the stress of juggling his regular job and taking calls at 3 a.m. when the overnight cook didn't show, were too much. "I had to give it up," he says. In 2002, he tried again, only to lease it three years later to someone else.
Mr. Marshall's life changed in 2008. He, his wife, Dané, and son, JohnRobert, were at Kennywood Amusement Park when he received a call from his doctor's office saying he had prostate cancer. His son stayed at the park with friends. He and his wife went home and cried. A few days later, on a whim, he called a well-known prostate-cancer surgeon he remembered seeing on "Charlie Rose." To his relief, the surgeon, who was at Johns Hopkins University, agreed to treat Mr. Marshall. Mr. Marshall was still employed at the time, but the doctor didn't accept insurance. His brother, Dick, lent him $15,000 for the surgery.
Even as Mr. Marshall worried about how much cancer they would find, he began thinking about what he really wanted to do. The stationery business supported his family, but he was tired of traveling, reporting to someone else, and dealing with late shipments of Christmas ornaments. "I loved the diner business. I wanted to do it again, but all the way. Give up my job," he says.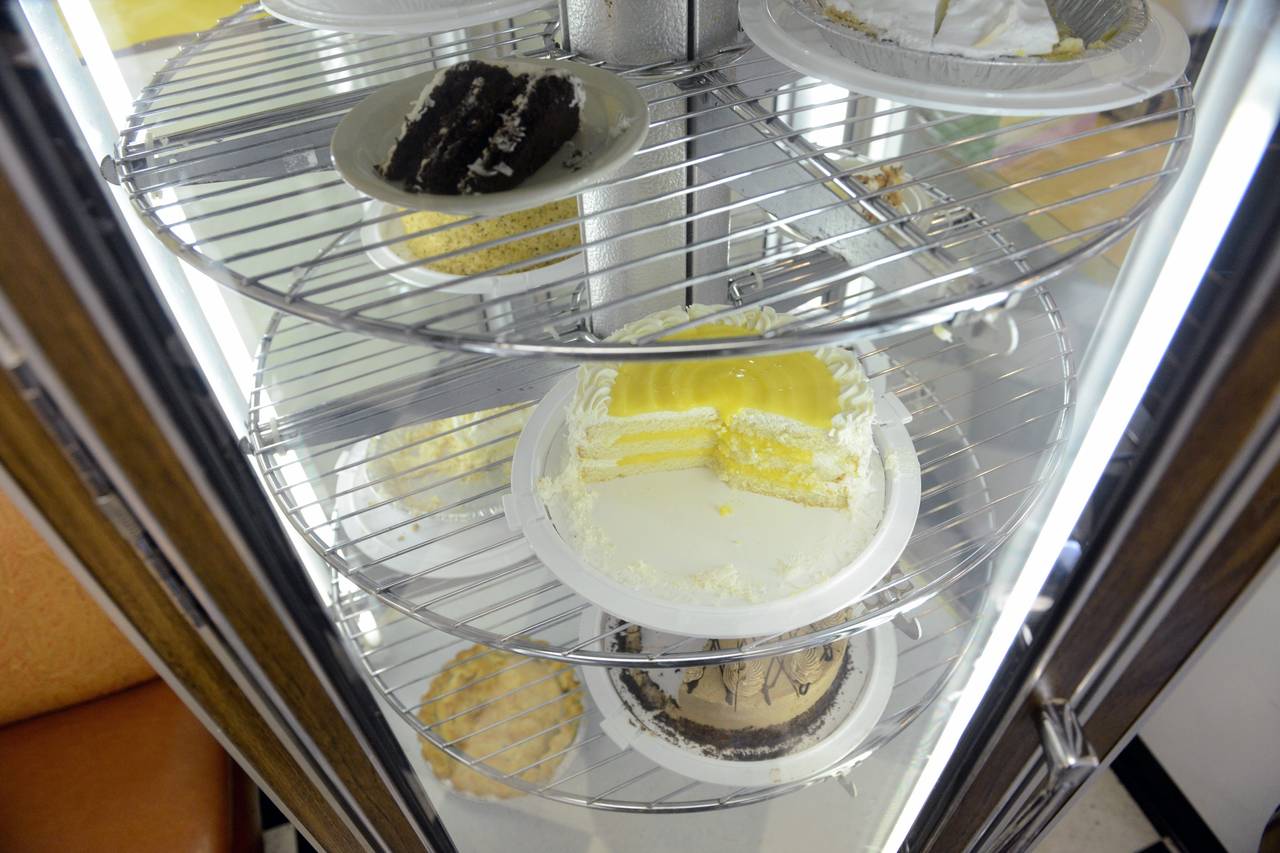 He consulted Dick, who was 10 years older and had once owned four flower shops. The shops were initially fun but never made money and became increasingly stressful. People would call him at midnight, asking for a floral spray for a funeral. He dreaded Christmas, Mother's Day, and Easter when everyone was ordering flowers. "It ruined our holidays. We were too tired to have Christmas dinners some years," he says. "I couldn't wait to get out of it."
Dick wanted to be supportive, but in good conscience couldn't encourage his brother to open a diner. It wasn't just the soured florist-shop experience. Memories of his father's bankruptcy lingered. Dick, then 20, accompanied his father to bankruptcy court for a hearing that lasted only five minutes but took his father's dignity, he says. After that, his father kept a low profile and sold encyclopedias for a while until heading to Florida to sell real estate.
"I saw what it did to my family. The stress it took on my mother. I thought it would kill my father," he says. "For [Bob] to want to do that, especially at a time when he was sick? I didn't think it was a good idea."
Bob's wife and children told him to go for it. "I knew he always wanted another chance for it," says Dané, who owns a gift store at a local hospital.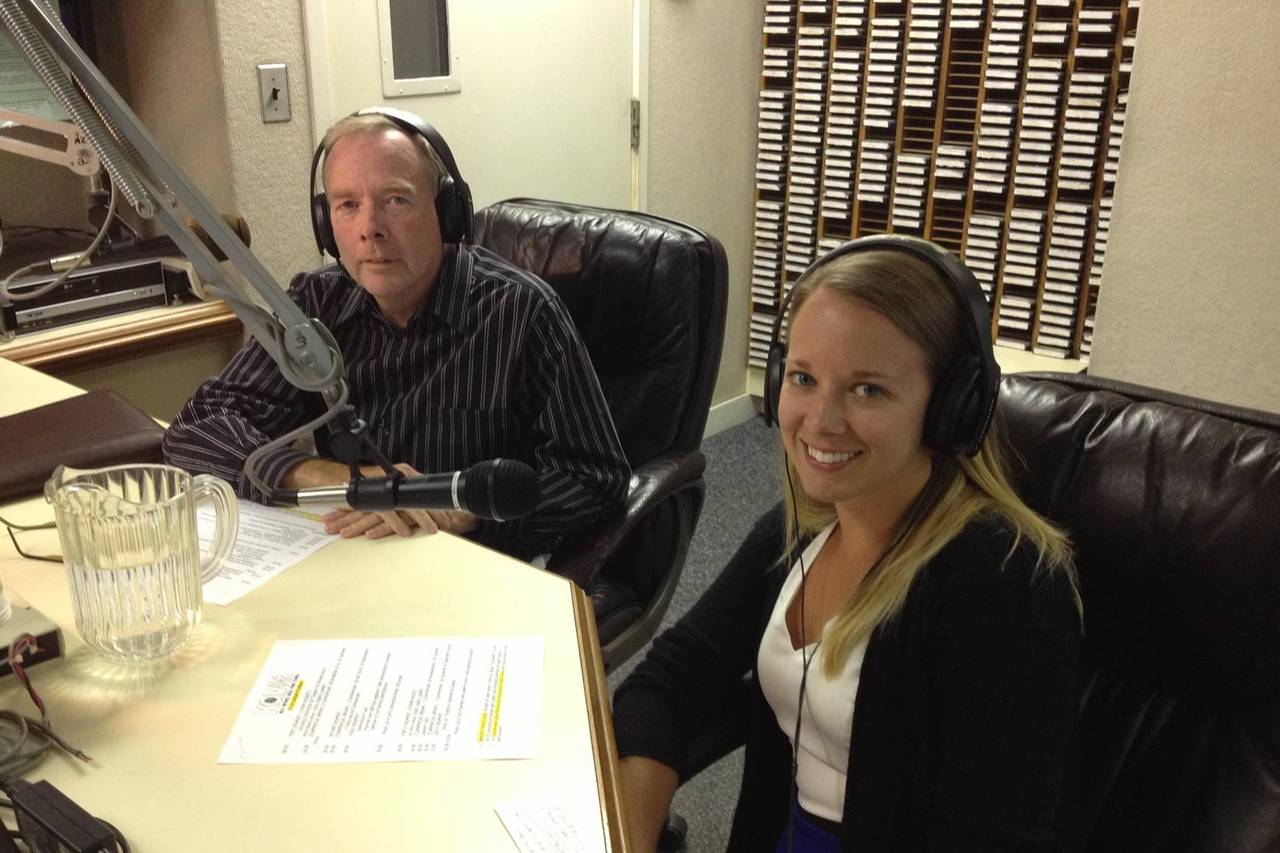 His mother lent him $7,500. Another relative lent him a few thousand more. With that money, and their limited savings, he opened Bob's Diner in the Pittsburgh area about a year after his surgery. He bought tables and booths from a bar that closed and a fryer at an auction. A lemon meringue pie and three-layer chocolate cake pirouette in a dessert carousel bought for $600 off Craigslist.
He now has four Bob's Diners and is healthy: Blood tests, taken every six months, show no signs of cancer. He seats customers, pours coffee and buses tables. "He works harder than he ever has but is happier than he has ever been" says his wife.
His brother, Dick, now convinced, says "Good for him."
Mr. Marshall says one of the biggest and unexpected payoffs has been working closely with his now-married daughter, Claire Muszalski, a dietitian and vegetarian. They co-host "The Bob's Diner Show" on a local AM channel, talking about food and local restaurants. She gently chides him for eating too few vegetables. He says he prefers meat and potatoes. Theme music from Andy Griffith plays at breaks. Before the show, they meet for dinner, just the two of them, taking turns picking a new restaurant to talk about on the show. "It's my favorite part of the week," he says.
---
WTAE's Pittsburgh's top breakfast spots: Bob's Diner
WTAE visited one of Pittsburgh's best places for breakfast, Bob's Diner on Mansfield Boulevard in Carnegie.
Read more and view the video here.
---
Pittsburgh Post Gazette, Munch Goes to Bob's Kennedy Diner
"While the food is good, amazingly, the service is better. Bob Marshall and his staff are friendly, but not cloyingly so."